Angelmania Viii
---
MS. ANGEL LOCSIN
2008 UNDISPUTED MOST BEAUTIFUL PINAY
by culasha

Whoaaa hu-woo everyone's in a party mode….so ecstatic….we're in cloud 9 yeay….i was literally jumping up and down the moment I found out that Angel Locsin hailed anew as 2008 Most Beautiful Pinay at Starmometer poll….wow… now it can be told that ANGEL REPUBLIC rocks!! and RULES!!
without a doubt....SI ANGEL AT WALA NG IBA
she's got it ALL!!!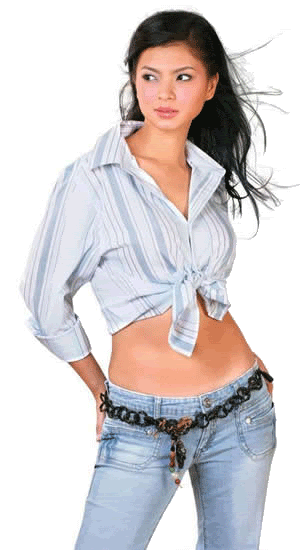 We can't seem to get enough of Angel from being the Fantaserye and Primetime Queen to the undisputed MOST BEAUTIFUL PINAY. For three consecutive years, it such and achievement for a young lady her age and stature to stay connected immensely with her numerous fans, I mean all these overpowering support was truly amazing to the max!!
People love her so much, they naturally fuss over her, if let's say you have seen a lot of people in a mall, aha chances are she's there promoting her teleserye or she's being introduced as the hottest endorser of a fashion apparel, she's definitely HOT!! well anyways, life has since then been that "killing" ohh that's oh so gross my sweetie…I mean so hectic for Gelai, she often doesn't know what her day will be like, it's not surprising for a popular young actress to be in a limelight----hottest billboards, commercials, magazine covers and the like. It pays to be gorgeous and famous; whenever she goes she commands so much kind of attention from all kinds of people.
Her pleasant demeanor isn't for the cameras alone. Angel is so nice to everyone, I've read a lot of testimonies from "super WOLFIES" that she smiles as if she isn't tired, she neither complains nor becomes irritable just like LOLA MR!!ngek
Even when Angel Locsin was just starting at GMA Network you could feel then that she isn't rude, she said in one of her interviews then that she doesn't want to be mean and that she hates to make people feel bad " I WANT TO BE KNOWN AS SOMEONE WHO MAKES PEOPLE HAPPY….someone who cares and someone who makes a difference…all these traits are worth emulating. Angel's most endearing quality is her humility, she is so totally unaffected by her popularity and stardom.
Words are not enough to describe how I feel for ANGELS, my heart goes to all of you who made such a tremendous job for voting in the latest poll, we have experienced to be in pins and needles, lam nyo na it's not easy to be a REPUBLICAN.. worth it lahat ng puyat pagod and everything...lam nyo na kung ano yun hehehe….love yah guys….as in sobra
originally posted in
ARep
on Sep 8, 2008, 06:18 PM